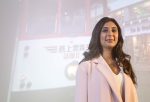 Other Ways to Support
There are many ways to support our Forever Forward campaign.
Explore
Play Your Part
From supporting our endowment to leaving a legacy gift or supporting collective giving through our Regent's Circle and more, philanthropic gifts play a vital role in helping to unleash our full potential and build lifelong relationships with our global community. Play your part in our new campaign, Forever Forward, and together we can transform business and the world for years to come.
Explore Other Ways to Support