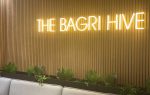 The Innovation & Transformation Office is a change engine dedicated to exploring and nurturing new ideas and ways of working. It has enabled dozens of experiments in teaching, learning and engagement.
As momentum has gathered, the scope of innovation and transformation at the School has broadened to include digital learning, technology transformation and School wide innovation. Today Campaign investments in Innovation@LBS will allow the School to test and scale transformative opportunities and forward the School's innovation agenda, benefitting the whole community.
We are driving towards being the best lifelong partner for our global community from our London Hub. Digital Transformation is a critical element of this ambition. Support towards Innovation@LBS will allow us to transform our digital and physical infrastructure enabling seamless, tailored and flexible learning and social experiences, allowing us to truly walk the journey for life with our alumni and friends.
The Bagri Hive, an innovative collaborative space, was launched for the new academic year in Autumn 2022, ready for the Forever Forward campaign.